Even as someone who avoids the news, I am very aware that there is an election coming up in November. One race is a big topic on everyone's mind, but that is not the only item on our ballots. So in today's post, I would like to encourage you to vote smarter not harder – to take a little time to really look into who and what you are voting for on your entire ballot so that you can make an informed decision on each candidate and ballot initiative.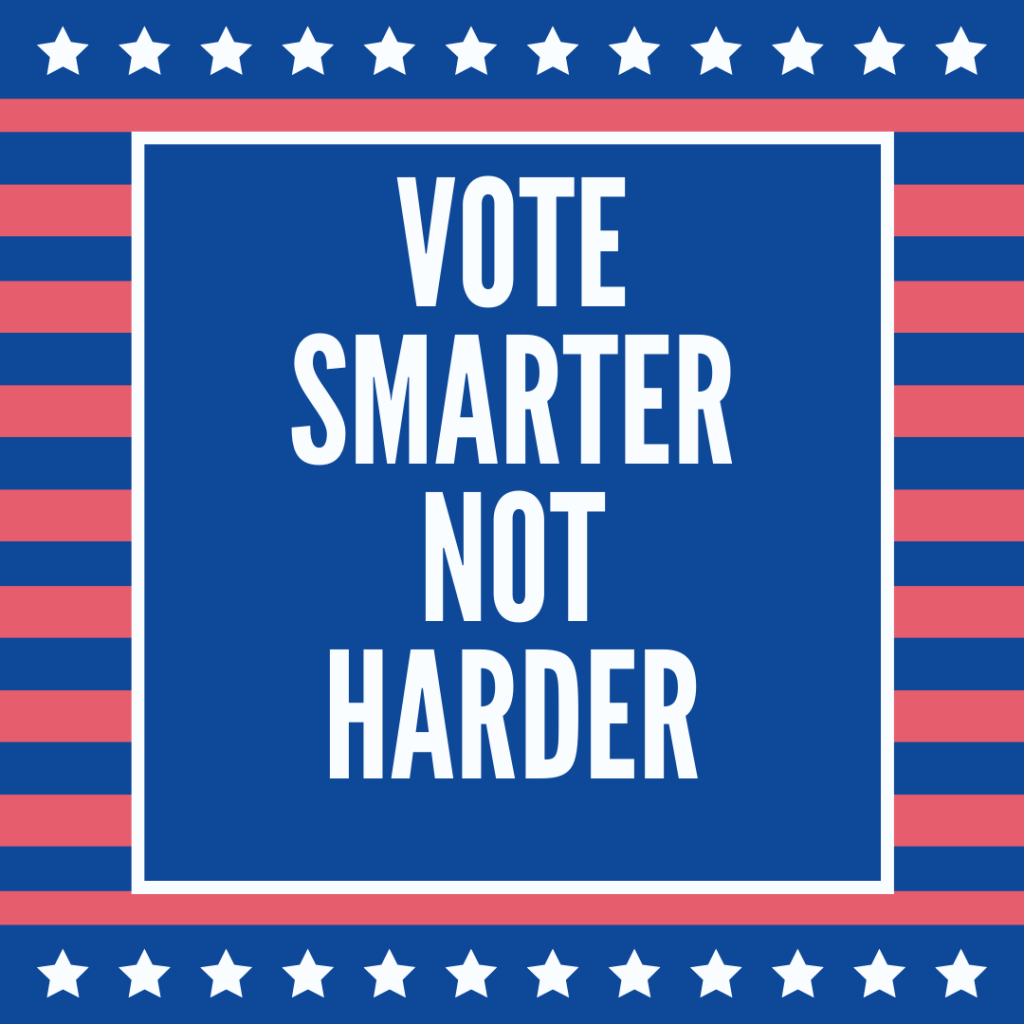 Researching my ballot is not my favorite way to spend my time and I don't doubt there are lots of other things that you would rather be doing. But I assure you that it is time well spent. By putting that effort in, I can feel comfortable that I'm voting for the candidate who will potentially cause the least amount of harm or that I'm not supporting a ballot initiative that would cost more than its purported benefit. In the March primary election, one guy running for district court judge actually changed his first name to Judge. At first glance, I thought, "Oh, this guy is already a judge," but no, he was actually not at all qualified and being intentionally misleading!
How to research your ballot
It can be tricky to find good sources of information about local and state races. I will sit down with my ballot and Google each item. You can search by district (ex: CA 47th Congressional District), by candidate (they all pretty much have their own website these days – it's a good way to get an idea of their education and professional background), or by region (ex: LA County Voter Guide). Your local bar association will put out a list rating candidates for judicial positions as "well qualified," "qualified," or "not qualified." I'm a big fan of the voter guide put out by the Southern California Public Radio website LAist; I hope that other public radio stations put out similar information. I like to compare what a candidate's website, LAist, and my local newspapers have to say about things.
The League of Women Voters (LWV) also puts out a voter guide. I love the LWV; it is a non-partisan organization that was founded in 1920 (the year the 19th Amendment was ratified) to help women carry out their responsibilities as voters and today is an organization dedicated to encouraging the active and informed participation of all citizens. The LWV doesn't take a position on initiatives, it simply presents them as written and explains potential impacts, who is supporting and opposing each one, and what a "yes" vote or a "no" vote would mean. They have a resource called Vote 411 where you can put in your address and get personalized voting information.
A new resource that I just found is Ballotpedia. The website states that its mission is to deliver, "unbiased information to educate and inspire American voters" and it seems to have a lot of straightforward information. I think that I will be incorporating this site into my ballot research.
If you haven't already received your California voting guide in the mail, here is a link to an online version: California Voting Guide.
Who and what you decide to vote for is none of my business and I wouldn't presume to offer you my opinions on any of the races or measures. But I do hope that you will consider committing a little bit of your time to looking up the candidates and propositions before you mail you ballot in early or head to the polls. Remember to vote smarter not harder.