Long story short: I'm working through this creativity program. I'm part of a group and we meet every week, it's a whole thing. I'll go into more detail about it later, today I want to tell you about one of the exercises I just got to do.
The assignment was to make a creativity doll. And that was the whole exercise.  Whatever that meant to you, you were supposed to create.
I instantly knew that I wanted to make a rag doll. Like my childhood Raggedy Ann doll. Like Raggedy Ann, my creativity doll would have a candy heart. But she would also have magical sparkly things in her head.  And I wanted to create her completely out of supplies that I already had around the house.
She'd have a green dress, a flamingo print pinafore, a sweet face, and I could use some satin ribbon to make little ballet shoes for her.
I told Mr. Man about my plan. He asked if she would have a cat. You know, I had been thinking about that, but I wasn't sure if I would be able to pull it off. And then, when I started gathering all of my supplies, I found a little bag full of felt cut-out cats. Oh yes, she would have a cat!
I corralled all my supplies in one location and was ready to get to work. Where to start? Maybe it would be a good idea to look for a pattern. Ok, Pinterest, whatcha got for me? Wow, there was a lot there.
Once I recovered from Pinterest overload, I decided to make my own pattern. She was MY creativity doll after all. So, I drew out the shape that I wanted, then I cut out the pieces, traced them each again, and added a ½ inch seam allowance. Then I used those pieces to cut her out of off-white linen that had been purchased several years ago for a kaftan that has yet to be made.
After she was pieced together, it was time to get the sparkles for her head. My original thought had been Christmas tinsel, but I realized that I didn't want to dig it out of the back of the garage. I found a rhinestone necklace from the flea market (another unrealized project) and smiley face confetti. And a few sweet pea seeds. Who wouldn't have wonderful ideas with all of those treasures in their head?
The only purchase for her was a bag of candy hearts (one for her, the rest for Mr. Man). It just felt important that she have a candy heart like Raggedy Ann. I used clear nail polish to give it a clear coat before placing it.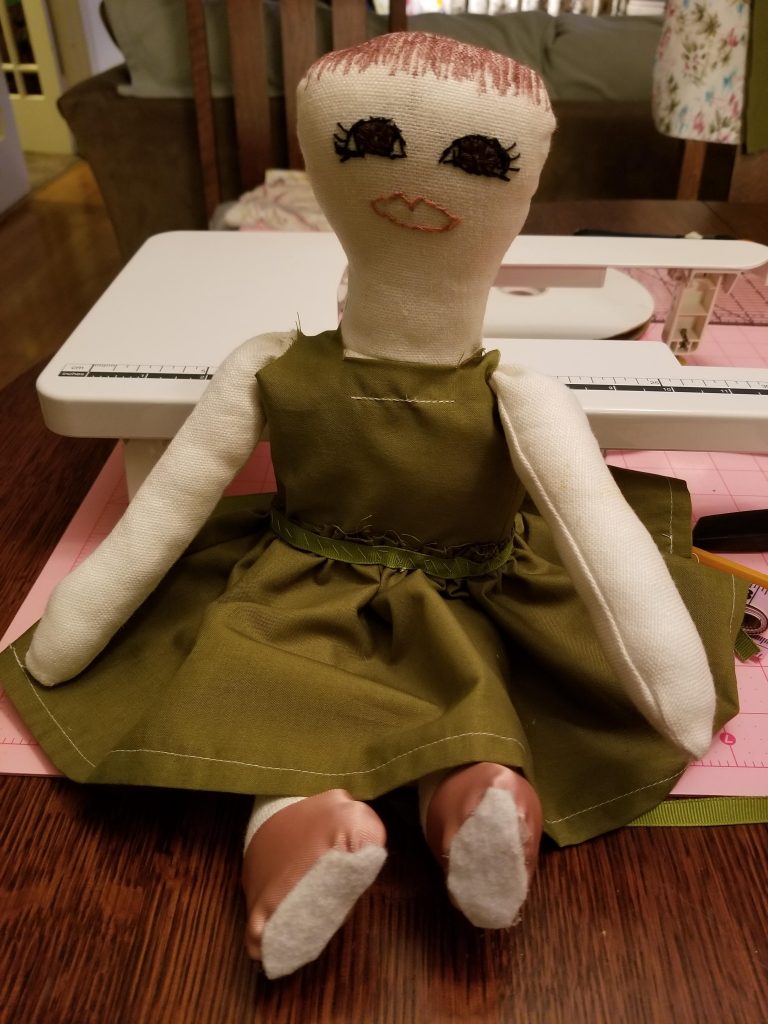 Now that she was dressed, the poor dear needed something nicer for her hair. I used all the remaining embroidery floss to make her a fringe. It wasn't enough for a full head of hair, but it was much better than just magic marker.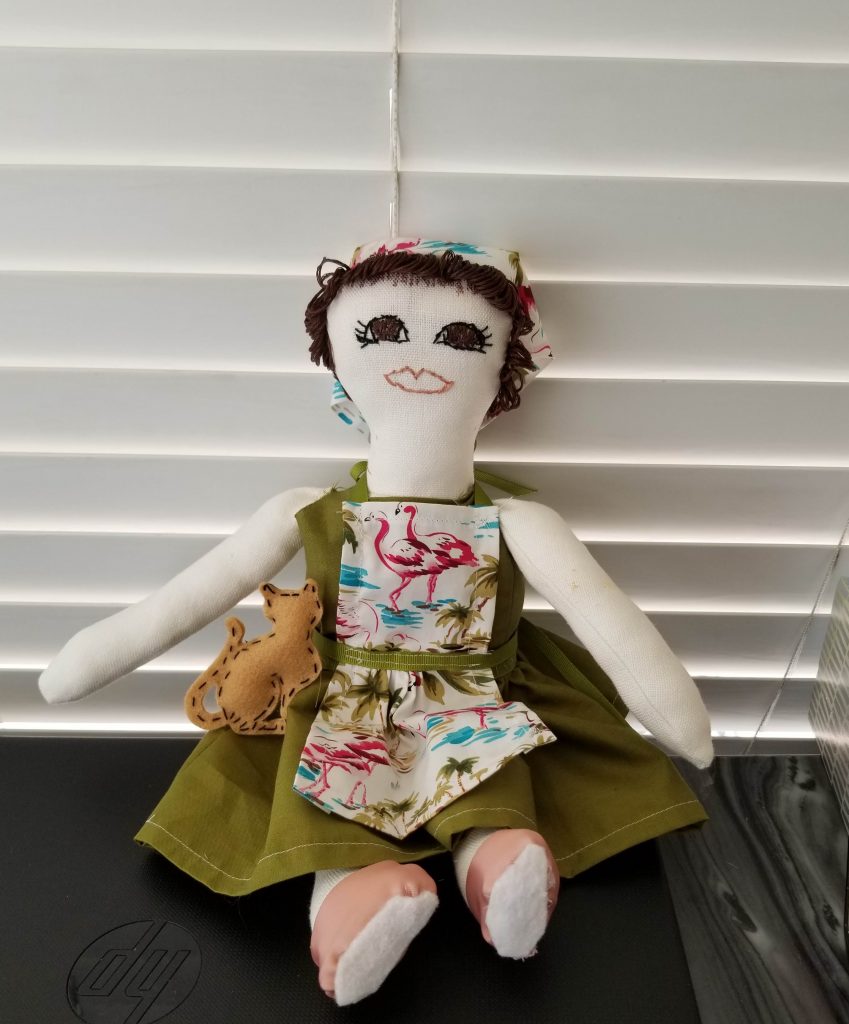 At the end of the day, this reminded me why I'm so hesitant to get started on projects like this. Once you have your idea formed and pull all of your materials together, its going to be a long haul. I may try to make her a nicer top for her dress and maybe a petticoat, but for now, she can sit on the windowsill with her cat and grow happy, sparkly thoughts.