No, I'm not talking about YouTube just for cats (although that might be a brilliant idea, can someone get on that please?). I'm talking about one of Anabel's favorite toys, the cat tube.
Even though cats don't need a lot of fancy toys, there is some great satisfaction in buying fancy things for them.  Even more so when it's a toy that can maintain kitty's interest for longer than a few days (and doesn't require batteries).  One cat toy that had retained its charm in our home is the cat tube.
I don't know what else to call it. It is a length of fabric-covered tube. That's it.
As I was scrolling back through the kitten's baby album, I did find that at one point it had a little dangling fluff ball. Other than that, it has held up pretty well.
It also was clear that Anabel has always had a greater appreciation for this particular piece of equipment than her brother, Sally.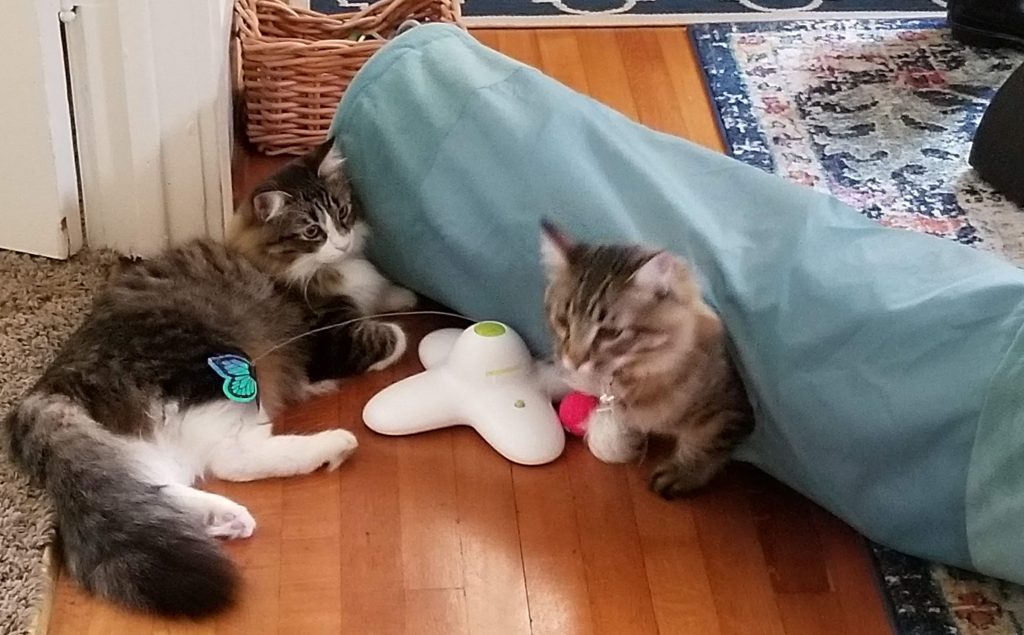 Currently, the cat tube is one of Anabel's favorite games. She will cry and holler, then dash off to hide out in the tube when you come looking for her. She will lay in wait and pounce out to swat at you, then dash back inside. When she and Sally play, he will pounce on top of the tube, smashing it on top of his poor, helpless sister (who instigated the whole game in the first place).
The cardinal rule of cat toys is change it up. You don't have to really have that many things for them to play with as long as you move them around and switch them out from time to time. For a while, the cat tube lived in the front room, blissfully forgotten by everyone except yours truly who seemed to be the only one living here who found it to be in the way.
One day, in great frustration, I tossed it back into the den (the cat's playroom) and they took to it with a fresh novelty. Anabel has been very committed to the tube being part of her daily play routine ever since.
Another time, it found its way onto the futon (there is a great degree of rearranging that is necessitated when trying to vacuum the cat's room). Now it was Anabel's favorite place to sleep! I couldn't find her anywhere. I looked in all of the places and there was no sign of her until I noticed the little bit of white peaking out from the tube.
Even though I am consistently tickled by the cats playing in the tube, one of my most felicitous memories was when my friend and her two-year-old daughter came to visit. Apparently, they make the same thing for baby humans too. It was particularly hilarious watching this small person trying to fit herself into the cat-sized version of a toy that she had at home and Anabel's reaction to this person trying to play with her favorite toy.