You remember how there was that football game the other weekend? And for a few years now, Animal Planet has counter-programmed with The Puppy Bowl. The Puppy Bowl is nice and all, but really the best part of it is the half-time show (one word: kittens). Well, I got a hot tip about something even better than just a kitten half-time show, something wonderful, called The Kitten Bowl. Thank you, Hallmark channel, for creating such needed and quality content. And thank you Hallmark channel watcher for the tip, it was very much appreciated.
This was Kitten Bowl VI.  Yes, SIX!  The fact that I have missed five years of this quality program tells you that I clearly haven't had my priorities straight.  The fact that I didn't miss it this year means that things are finally moving in the right direction, don't you agree?
Ok, back to the show. The instigator of this extravaganza is Beth Stern, Howard Stern's wife and famous crazy cat lady. Thank you, Beth.
This was a start-packed extravaganza. Boomer Esiason was the commissioner of the Feline Football League (FFL). Rebecca Romijn was the ambassador of Hallmark Channel's Pet Adoption campaign. She presented special interest stories about all sorts of adopted cats throughout the broadcast.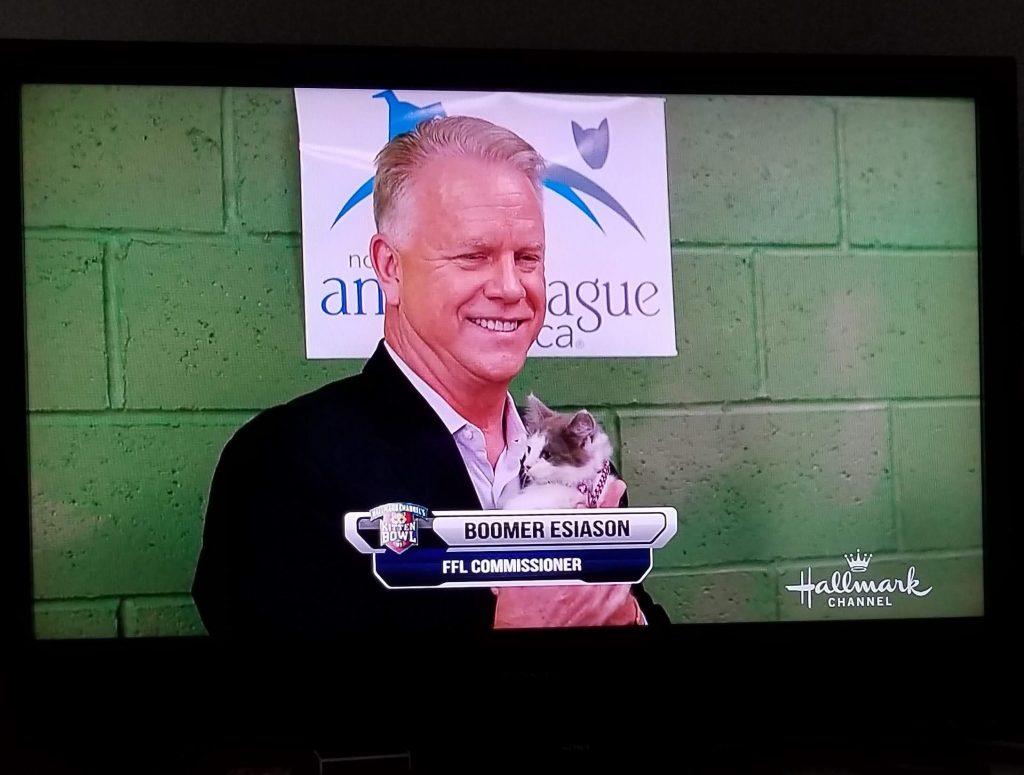 The announcers were Dean Cain (yes, Superman) and Rodney Pete. You have to give it to those guys, they dropped more cat puns in the first five minutes of the broadcast than I could imagine possible.
Some of my favorite cat puns:
Ruff-ere (there were puppies there to officiate)
Paw-session
Unnecessary fluff-ness
Catletes!
Here's the format: there were two playoff games between four teams: Last-Hope Lions, Little Long Tails, Pouncy Panthers, and North Shore Bengals. The winners of each game would play each other in the final game.
Last Hope Lions were mostly grey and grey-and-white kittens. They had a wide fur-ceiver, who caught my eye, Prince Hairy II.
Little Long Tails were black and black-and-white kittens. There was some suspense, one of the players, Rob Goncatski, Jr. missed the flight and was coming by party bus.
The first play-off game went to the Little Long Tails who beat the Last Hope Lions by a whisker, 24 to 23.
Time for game two, Pouncy Panthers versus North Shore Bengals.
Pouncy Panthers were the defending champs, and also happened to be the tabby team – you know that these guys were my favorites.
North Shore Bengals were the orange kitten team. They had a ringer, a one-eyed wonder named Davey.
Somehow, North Shore Bengals beat the Pouncy Panthers 29 to 23. I still can't believe it.
Time for the championship game: North Shore Bengals versus Little Long Tails.
North Shore Bengals were dominating the first half. Rob Groncatski, Jr. finally arrived with a few minutes left in the half. He was a game changer and scored two touchdowns in a row! At the end of the first half, the score was Bengals 21, Long Tails 22.
After the second half started, Rodney and Dean started losing it. There were making voices and making up dialogue for two kittens who were wrestling with each other. It was fantastic. Somehow, they managed to pull it together and got through the rest of the game.
In the end the score was Little Long Tails 35, North Shore Bengals 32. But the real winners were everyone who loves kittens.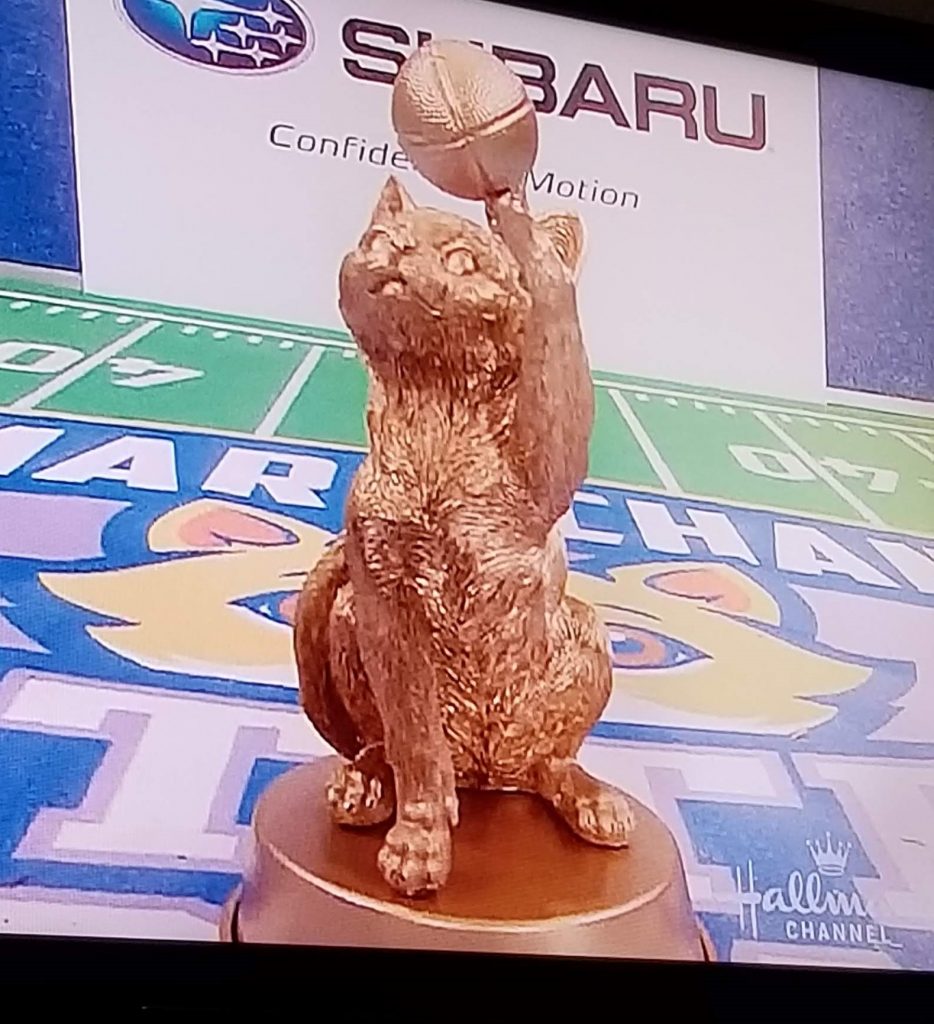 Don't worry if you missed it, you can find the whole thing on the Hallmark Channel website.