Even though I go to the gym four to six times a week, I am no gym rat.  I check-in and go straight up the stairs to the group fitness class area, take a class and run away. Occasionally, I will watch those fit people who seem to know what to do with various weights and equipment from what I like to think is the invisibility of the elliptical machines and imagine the day that I feel strong and confident enough to try some of those things.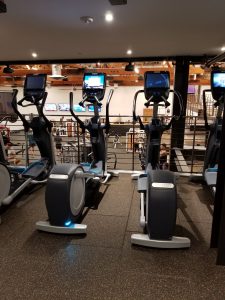 Group fitness classes are my sweet spot – I like someone telling me what to do without the overwhelming amount of attention that a personal trainer offers. And I like being able to participate in a variety of activities without any pressure to actually be good at any of them.  My current routine includes two yoga classes, two indoor cycling classes, and one barre class each week, which is respectable, but I needed to settle on something to do on Mondays.
Monday workouts are super important to me. I feel like a good Monday workout sets the tone for the whole week. It's the same sort of reason that I work out first thing in the morning: no matter what the rest of the day or the rest of the week has to throw at you, you've already accomplished one important thing. I find that I'm better able to be present in and patient with whatever situation that I find myself in after I have taken care of that piece of business.
So, back to the gym. Finding my Monday morning exercise jam was a challenge. But then an instructor who I really liked at a different exercise studio joined my gym and I found the courage to try something completely different!
Adam teaches a set of three thirty-minute classes on Monday mornings that I like to call Glutes, Guns, and Guts.  Thirty minutes lower body, thirty minutes arms, thirty minutes abs.  I'm not much of a strength workout girl, so anything involving weights (um, how do you put this barbell thing together?) and "functional" exercises is super intimidating to me.  But since I knew Adam from before, I was slightly less intimidated to show up and give it a try.
Holy smokes this workout is hard for me! My "heavy" dumbbells are 7.5 pounds (the gal next to me is crushing 20s and I'm wishing I had grabbed 5s). There is this thing that I think is called a reverse step-down, that just clobbers me.  I don't know why stepping down onto my knees and then back up to my feet is so hard!  You would think that my thighs have never experienced that range of motion before.  But that's ok, I'm just there to do what I can. Every week I feel a little stronger in ways that are different from my comfort zone workouts. And that's cool. Maybe eventually I will feel like I'm strong enough to find the confidence to venture out there onto the gym floor (because I will know how to put that barbell together and what to do with it once I have).
Was there a time that you tried something new at the gym?